My debut poetry pamphlet/chapbook Fold me a Fishtail was published by Selcouth Station Press in March 2022. I'm so happy with the result! The book contains 26 poems / 32 pages of poetry. Scroll down on this page to read the raving reviews by Helen Ivory, Shivanee Ramlochan, Fran Lock and Alexandra Loske.
Do you have a teaser? A few poems I can read before I buy?
Sure! Go ahead and read 5 of the 26 poems that are in Fold me a Fishtail.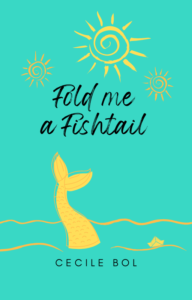 Where can I get a copy of that poetry book of yours?
You can buy a print copy of Fold me a Fishtail (5 GBP) or opt for an ebook (2.5 GBP) in the online shop of Selcouth Station Press. Fold me a Fishtail won't be available in Dutch book stores. However, if you happen to live in or visit the Netherlands, I'm sure we'll be able to figure something out :D. Feel free to drop me a line at notebook.cecile@gmail.com.
So what's Fold me a Fishtail about?
I guess the best answer to that is the pitch I sent along with my manuscript: "I sometimes wonder whether Disney's Ariel misses her mermaid tail, now that she's the legged wife of prince Eric. Isn't she way too curious and free-spirited for a conventional family life? Or is that just me? That feeling chained to a husband, toddler and suburban lifestyle was enough to drive me dangerously crazy? Fold me a Fishtail is a collection of mostly confessional poetry about a long journey into, through and out of (?) the dark."
And those raving reviews? What did those cool people say about Fold me a Fishtail?
'Cecile Bol's poems thrum with the wit and play of language, and travel the desire lines of fairy tale. Familiar yet disarming – like finding snakes in your strawberry patch.' – Helen Ivory, author of The Anatomical Venus (Bloodaxe Books)
'The sonic inventories of Cecile Bol's poems open themselves to states of wonder, irreverence, and audacious play: fantasies and mythscapes are artfully reconfigured in these verses, shaping a space of pure inventive delight.' – Shivanee Ramlochan, author of Everyone Knows I Am a Haunting (Peepal Tree Press)
'Cecile Bol's Fold me a Fishtail is a lively and formally daring debut of great imaginative energy and rare emotional reach. Shifting between the domestic and the fabulous, weaving fable, fairy tale, nature and culture, Cecile's speakers grapple with and glory in what it means to create, to struggle, and to love. The language in this collection is electrically alive, and Cecile's evocations of desire are as frank, tender and zesty as any in contemporary poetry. With clarity and linguistic flair, Fold me a Fishtail negotiates both joy and despair, intimacy and isolation with vigorous and unflinching poetic force.' – Dr Fran Lock, author of Hyena! Jackal! Dog! (Pamenar Press)
'Fold me a Fishtail is visceral, moving, and often almost painfully intense. At times Cecile's poems blur the boundaries between prose and poetry, the simple and the complex, hyper-realism and imaginary worlds. Her debut chapbook is powerful in its raw and wild poetic images, some inspired by folklore and fairy tales, others originating from everyday life.' – Dr Alexandra Loske, editor of The Frogmore Press and several anthologies of poetry